Tom Tudor has been a distinguished speaker for twenty-five years, presenting a moving and informative narration of our nation's most hallowed ground: Arlington National Cemetery. Mr. Tudor, speaking to hundreds of organizations and institutions nationwide, is an authority on the history of 'Arlington' and the Tomb of the Unknown Soldier, which is visited by over four million people annually. His comprehensive and compelling power-point presentation recently aired on C-SPAN American History Television and he was a featured speaker at the National World War II Museum for Memorial Day 2016. His presentation is one you don't want to miss.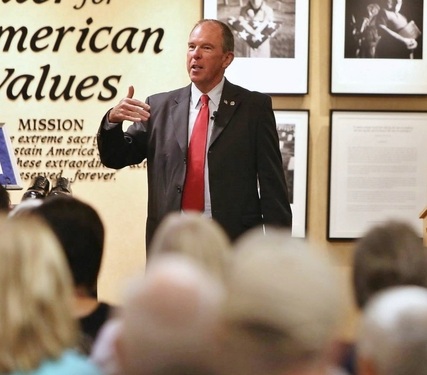 Mr. Tudor served as a sentinel, then relief commander, at Arlington's Tomb of the Unknown Soldier from February 1969 to Memorial Day of 1970. He is the past President of the Society of the Honor Guard – Tomb of the Unknown Soldier and is a Member of the Board.
Mr. Tudor has been a business entrepreneur for over three decades; is a five term Rotary International Club President, is a graduate of the University of Iowa and is a member of the Theodore Roosevelt High School Alumni Hall of Fame, Des Moines, Iowa. He lives in Colorado Springs, Colorado with his wife, and is the proud father of two daughters.
Consider Mr. Tudor to make a profound contribution to the success of your next event. Your attendees will leave standing taller with pride, honor and dignity for embracing the history of our nation's 'Arlington' and the Tomb of the Unknowns.