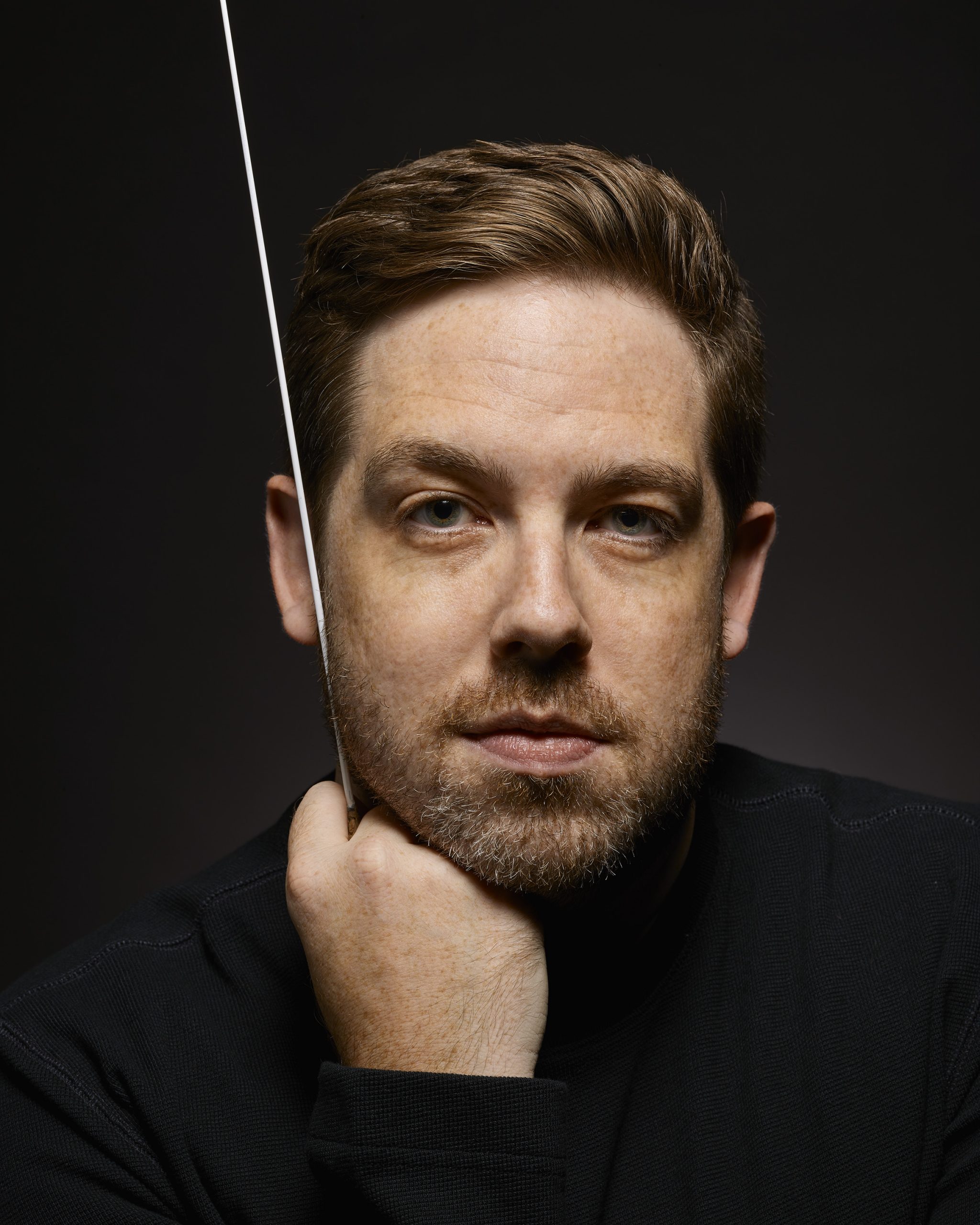 In "Conducting Business: Lessons from the Podium," conductor Brett Mitchell—Music Director of the Colorado Symphony—shares his journey in music and the lessons in leadership he's learned along the way. We will hear about his fascinating journey from growing up in Seattle in the '90s—where the primary musical topic of conversation were "grunge" groups like Nirvana and Pearl Jam—to his appointment as Music Director of a major symphony orchestra at the age of 37. Brett's approachable, informative, and entertaining presentation is one you do not want to miss.
Hailed for presenting engaging, in-depth explorations of thoughtfully curated programs, Brett Mitchell has served as Music Director of the Colorado Symphony since July 2017. Prior to this appointment, he served as the orchestra's Music Director Designate during the 2016-17 season. Throughout his tenure, he has led the orchestra in the majority of its classical subscription programs each season, as well as a wide variety of special programs featuring such guest artists as Renée Fleming, Yo-Yo Ma, and Itzhak Perlman.
Mr. Mitchell is also in consistent demand as a guest conductor. His 2020-21 season will feature return engagements with The Cleveland Orchestra and debuts with the North Carolina, Fort Worth, and Pasadena symphonies. Other recent guest engagements include the Dallas, Detroit, Houston, Indianapolis, Milwaukee, National, Oregon, San Antonio, San Francisco, and Vancouver symphonies; the Los Angeles Philharmonic at the Hollywood Bowl; the Minnesota Orchestra; the Rochester Philharmonic Orchestra; the Saint Paul Chamber Orchestra; the Grant Park Festival Orchestra; and a two-week tour with the New Zealand Symphony Orchestra.
Mr. Mitchell also regularly collaborates with the world's leading soloists, including Yo-Yo Ma, Renée Fleming, Itzhak Perlman, Rudolf Buchbinder, Kirill Gerstein, James Ehnes, Augustin Hadelich, Leila Josefowicz, and Alisa Weilerstein.
From 2013 to 2017, Mr. Mitchell served on the conducting staff of The Cleveland Orchestra. He joined the orchestra as Assistant Conductor in 2013, and was promoted to Associate Conductor in 2015, becoming the first person to hold that title in over three decades and only the fifth in the orchestra's hundred-year history. In these roles, he led the orchestra in several dozen concerts each season at Severance Hall, Blossom Music Center, and on tour.
From 2007 to 2011, Mr. Mitchell led over one hundred performances as Assistant Conductor of the Houston Symphony. He also held Assistant Conductor posts with the Orchestre National de France, where he worked under Kurt Masur from 2006 to 2009, and the Castleton Festival, where he worked under Lorin Maazel in 2009 and 2010. In 2015, Mr. Mitchell completed a highly successful five-year appointment as Music Director of the Saginaw Bay Symphony Orchestra, where an increased focus on locally relevant programming and community collaborations resulted in record attendance throughout his tenure.
As an opera conductor, Mr. Mitchell has served as music director of nearly a dozen productions, principally at his former post as Music Director of the Moores Opera Center in Houston, where he led eight productions from 2010 to 2013. His repertoire spans the core works of Mozart (The Marriage of Figaro and The Magic Flute), Verdi (Rigoletto and Falstaff), and Stravinsky (The Rake's Progress) to contemporary works by Mark Adamo (Little Women), Robert Aldridge (Elmer Gantry), Daniel Catán (Il Postino and Salsipuedes), and Daron Hagen (Amelia).
As a ballet conductor, Mr. Mitchell most recently led a production of The Nutcracker with the Pennsylvania Ballet in collaboration with The Cleveland Orchestra during the 2016-17 season. In addition to his work with professional orchestras, Mr. Mitchell is also well known for his affinity for working with and mentoring young musicians aspiring to be professional orchestral layers. His tenure as Music Director of the Cleveland Orchestra Youth Orchestra from 2013 to 2017 was highly praised, and included a four-city tour of China in June 2015, marking the orchestra's second international tour and its first to Asia. Mr. Mitchell is regularly invited to work with the highly talented musicians at the Cleveland Institute of Music and the orchestras at this country's high-level training programs, such as the National Repertory Orchestra, Texas Music Festival, Sarasota Music Festival, and Interlochen Center for the Arts.
Born in Seattle in 1979, Mr. Mitchell holds degrees in conducting from the University of Texas at Austin and composition from Western Washington University, which selected him in as its Young Alumnus of the Year in 2014. He also studied at the National Conducting Institute, and was selected by Kurt Masur as a recipient of the inaugural American Friends of the Mendelssohn Foundation Scholarship. Mr. Mitchell was also one of five recipients of the League of American Orchestras' American Conducting Fellowship from 2007 to 2010.
For more information, please visit brettmitchellconductor.com.
If you need the Zoom details to join this meeting, please email finola.annibella@yahoo.com.