Nhi Aronheim stands at only four feet, nine inches tall, but her story is immense.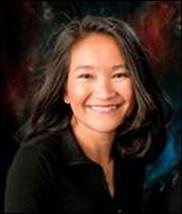 Several anthologies including KENTUCKY WOMEN: TWO CENTURIES OF INDOMITABLE SPIRIT AND VISION, and the PBS documentary, VIETNAM 101, have profiled my harrowing journey as a child refugee who escaped war-torn Vietnam in search of the American dream.
Speaking very little English when Nhi arrived in Kentucky, she excelled in school and became valedictorian her senior year. She later earned a Bachelor of Science degree in mathematics from Centre College in Danville, and a Master of Science degree in Telecommunications Engineering at the University of Colorado in Boulder.
Nhi worked for four years as a telecommunications consultant for Lucent Technologies, during which time she met and married a Jewish man, and converted to Judaism in 2004. She has two beautiful children who she has raised to embrace Vietnamese and Jewish cultures.
After transitioning to sales and marketing in the mortgage industry—where she worked for over sixteen years—she retired from Citywide Home Loans as a marketing specialist, at the age of forty-one.
Next to her family, Nhi's passion is to make a positive difference in people's lives. She volunteers as a mediator for courts and the Better Business Bureau in Colorado, in addition to being an interpreter.
In 2013, Nhi earned a Black Belt in Taekwondo, fulfilling a promise she made to her birth mom—who wanted Nhi to learn karate before she left Vietnam—in the event she came under attack during her escape, she could protect herself.
Having come full circle from prosperity to poverty and back, Nhi hopes to encourage others to believe that in spite of overwhelming odds, they can survive any situation with a desire for improvement and the willingness to grasp opportunities in front of them.
NARRATIVE OVERVIEW
The soles of my feet still bear the scars of my horrific escape from Vietnam—where I trudged through the jungles of Cambodia at the age of twelve with a group of strangers. No experience, however, has influenced or enriched my life more than being adopted into a Christian family and later becoming a Jew.
In SOLES OF A SURVIVOR, I share my story of survival, resilience, hope, and faith in my quest to achieve the American dream.
Various articles, academic papers, and literary anthologies have focused on the experiences of Vietnam Boat People, but many of the one million refugees who fled my country's oppressive communist regime find it too painful to share their stories in depth. I too refused to relive my traumatic experiences for almost three decades—until now.
Through SOLES OF A SURVIVOR, I fill an essential gap for understanding the adversity Vietnam refugees endured from the perspective of a young child; the experience of being adopted into a household of a different culture; and the joys of interfaith marriage.